Use of property: residential building

Use of MyMeter: prevention

Location: Florence - Italy
Description
The project of the "Bargeo" was born as an intervention to recover an existing volume relative to an abandoned production building.
Wood has been designed, in the far-sighted vision of CDM Costruzioni, to obtain the maximum in terms of execution speed, quality/cost ratio and sustainability.
The urban constraints have designed a very complex and articulated design solution, with constructive solutions at the limit of the workability through the use of wooden structures, due to the high incidence of terraced surfaces, of gallery paths and flat roofs.
To develop the executive project, follow the direction of works and construction, the client turned to the company NextWood, specialized in building management.
NextWood has developed a constructive concept designed on the need to guarantee the highest construction quality as a guarantee of durability and integration between the structural components and the plant, with a careful control over the cost of construction.
In terms of durability, the building is characterized by a expanded cork insulation.
The result has been to develop innovative construction details and attentive to the respect of the objectives and to bring to a guaranteed end result also through the attainment of the certification ARCA.
The building was completed in September 2021.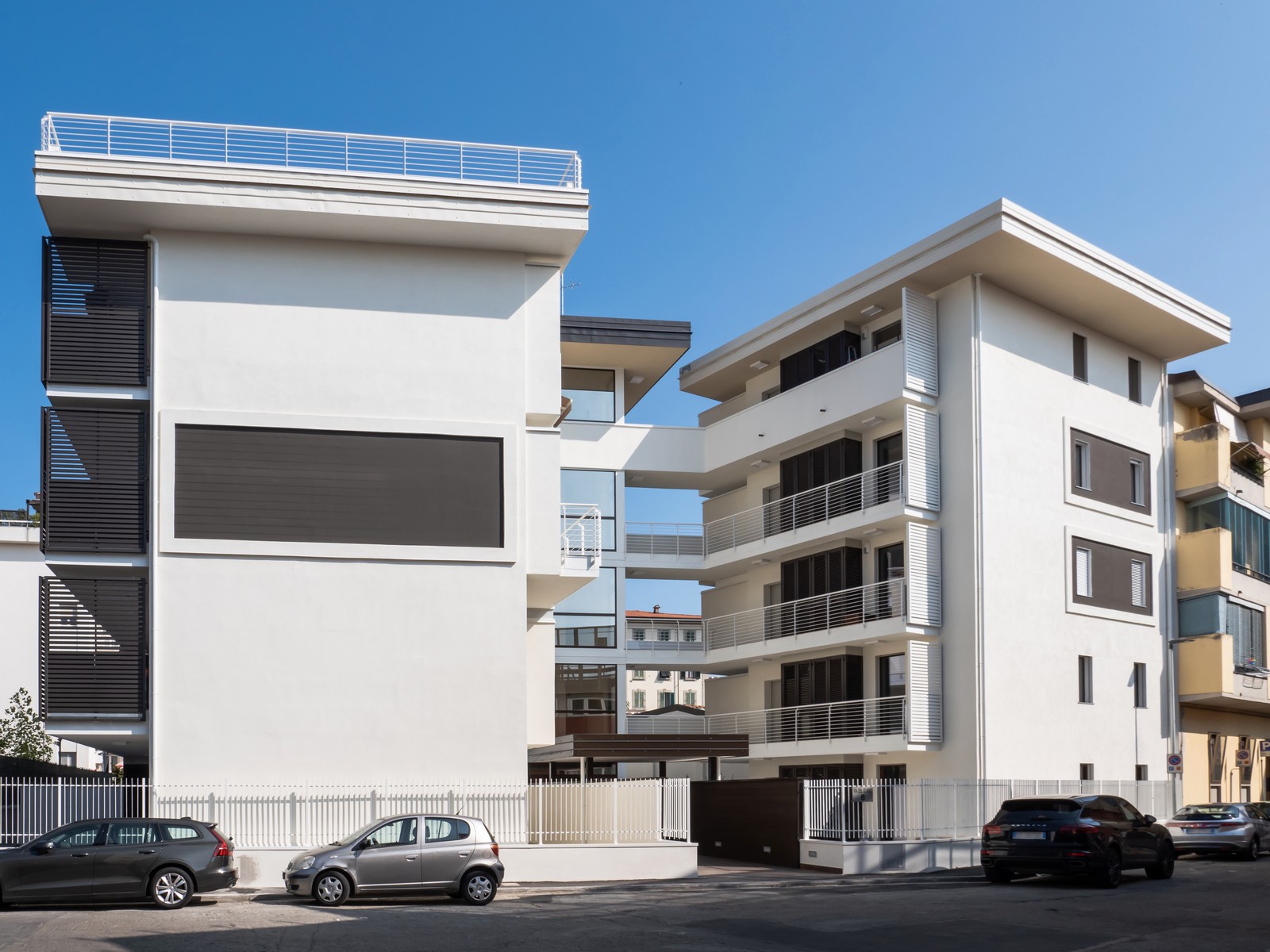 Use of MyMeter
In such a complex work, the guarantee provided by the rigorous design choices and constructive attention has been extended over time through the inclusion of the MyMeter monitoring system.
The level of attention and design quality is the fundamental requirement, but the possibility of being weighed not only on the theory, but also with the verification of the monitoring data was a fundamental concept both to verify concretely this effectiveness, and to control it over time.
In particular, monitoring is essential for two aspects in particular, the terraces and flat roofs and the facade adjacent to an existing building.
In these morphological elements, the design and construction solutions have two limits: on the one hand the shipbuilding that submits the theory to the unexpected reality, weather, unexpected, risk of execution errors, which must be weighed in the design hypothesis; on the other hand the longevity and maintenance of the elements put in place.
The monitoring allows to verify the structure beyond the theoretical data, checking the state of the moisture of the wood during the construction site and verifying that possible problems in execution, gradually return thanks to the solutions used.
In addition, the monitoring, included in a correct maintenance plan, allows you to prevent potential problems that may take time for accidental events or lack of maintenance itself and intervene promptly reducing problems and therefore costs.